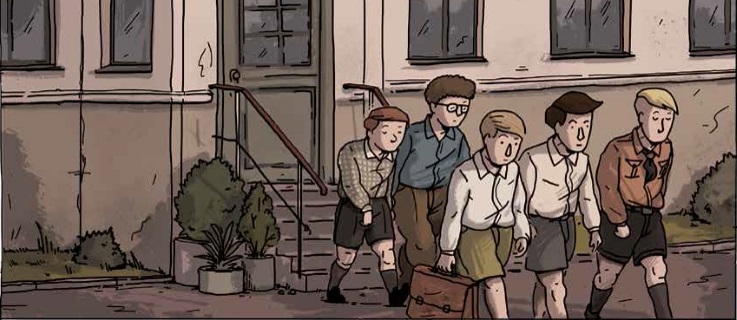 HAVING THE COURAGE TO RESIST: LEARNING FROM HISTORY
Thursday, 17 October
How can we convey contemporary history to the young in a vivid and readily comprehensible way? How can the dangers of social radicalisation on the one hand and the call for greater civic courage on the other be spelt out in a manner that will appeal to young people, and enable them to learn useful lessons for the present from the experiences of the past?

These questions will be discussed by the historian Jochen Voit and the Greek children's book author Vassilis Papatheodorou. Both writers are actively involved in education and youth projects, and will talk about their respective approaches and experiences in presenting historical and contemporary issues to young readers.

The graphic novel 'Nieder mit Hitler!' (Down with Hitler!) by Jochen Voit and Hamed Eshrat, published in 2018, is due to be translated into Greek under the auspices of the Goethe Institute's 'Litrix Programme'.

Participants:
Jochen Voit, author, and Director of the Erfurt Gedenk- und Bildungsstätte Andreasstrasse (Memorial and Education Centre Andreasstrasse)
Vassilis Papatheodorou (Athens), editor and children's book author
Chair: Christos Asteriou, author and translator, Free University Berlin

Panel discussion (in German)
Location: ARTE-Bühne, Hall 4.1, Stand D14

This event is presented in association with ARTE.

17.10.2019, 2:00 PM - 2:30 PM


Other events