Bookworld

Children's Literature Awards
Jutta Bauer, Nikolaus Heidelbach and Andreas Steinhöfel nominated for the 2021 Astrid Lindgren Memorial Award ('ALMA')
This richly endowed prize, amounting to approximately €480,000 and commonly described as the Nobel Prize for children's and young-adult literature, has been in existence since 2002. Wolf Erlbruch, the laureate in 2017, is the only German children's book illustrator to have been awarded the honour so far. This year, however, nominees from Germany once again find themselves in the running. Two German institutions are also included in the list of contenders: Munich's Internationale Jugendbibliothek (International Youth Library), and the Frankfurt artists' collective 'Labor Ateliergemeinschaft'. 30 March 2021 is the keenly awaited award day, and as usual the declaration of the winner can we watched worldwide via livestream at 1pm CET. Just a quick glance at the list of nominees each year - 263 of them this time - is enough to take one's breath away:
https://alma.se/nominering/tillkannagivande/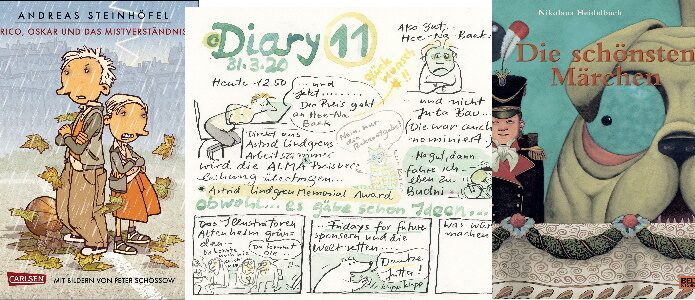 Andreas Steinhöfel has just won the 'LUCHS of the Year' prize awarded by the weekly newspaper Die Zeit for his most recent book, Rico, Oskar und das Mistverständnis ('R, O and the messunderstanding'). The 59-year-old author and translator certainly can't complain that his work has received inadequate recognition: ever since his literary beginnings with Dirk und ich ('Dirk and me') and Paul Vier und die Schröders ('Paul Four and the Schröders') he has counted as one of the most important German-language writers for children and young adults. His work is popular in the classroom, his audiobooks are successful (he likes recording the stories himself), and his 'Rico and Oskar' films have made him a strong presence in the film world as well. After living for several years in Berlin he has returned to his home town in Hessen, and after well over a decade of concentrating on his Rico and Oskar books he now has other projects in mind. Commenting on the honour of being nominated, he remarked that 'Astrid Lindgren had the wonderful gift of being able to recall as an adult the way she had thought and felt as a child. Good children's books give their readers reassurance, either through laughter or by offering consolation: "You aren't on your own!" To find myself and my work included in this tradition is prize enough, quite regardless of whether or not I end up on the winner's rostrum.'
Jutta Bauer has also received numerous awards, not least the Lifetime Achievement Award in the context of the 2009 German Children's and Young Adult Literature Prize. Born in Hamburg, she has worked as an artist for more than forty years, and has long been a member of the arts cooperative 'Ateliergemeinschaft im Goldbekhof' in Winterhude, Hamburg. At first she was known mainly as a cartoonist for the women's magazine Brigitte, then later as an outstanding author and illustrator of children's books. Together with the writer Kirsten Boie she has given their series of stories about the boy Juli an unmistakable profile, and just within the last year she has published Fanny ist die Beste ('Fanny is the best'), a story for primary school children. In the board-book domain she has created a much loved character in the person of Emma the Baby Bear. Her books have been translated into numerous languages, and the light and delicate line that characterises her drawings endows all her characters with heart and vitality. She won a coveted place on the list of ALMA nominees in 2020 as well, and needless to say she captured the event in her illustrated 'diaries'. As she remarked, 'It was so wonderful and so exciting the whole time at the International Children's Book Fair in Bologna, where you could hug the winner right there and then, champagne glass in hand.' If she wins this time, she would like to use the prize money either to buy a large house in Hamburg in order to realise her dream of setting up a rest home for female illustrators, or else to lay the financial foundations for an illustrations archive in Hamburg.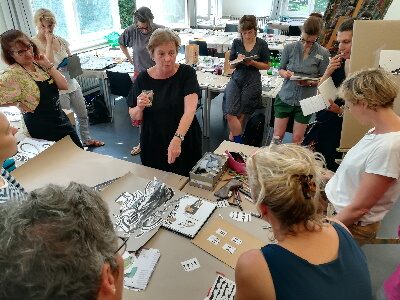 Nikolaus Heidelbach lives in Cologne and has worked there for many years in his city-centre studio - usually on a number of different projects at the same time. His work has also been featured in numerous art galleries. On the occasion of the exhibition 'Alphabet mit Zeichnern' ('Alphabet with illustrators') held in Cologne in 2008 he was asked by the exhibition's curator Thomas Linden whether children see pictures differently from the way adults do: 'I think we all hope that that is indeed the case and that the eye of a child is less prejudiced. In any case children expect more of pictures, and we should do all we can to avoid disappointing them by offering them pictures of precious little merit.' Nikolaus Heidelbach grew up in an artistic family - his father was Karl Heidelbach, a member of the Cologne Realism school - and after first doing German Studies at university he taught himself to paint. Ever an excellent observer and a powerfully expressive illustrator, he was spotted by the publisher Joachim Gelberg as an ideal recruit to the world of children's books. He is famous for his opulently illustrated collections of fairy tales by Hans Christian Andersen and the Grimm Brothers, as also for his other picture books, which reflect negative emotions as well as positive ones, and are often designed to be provocative, out of the ordinary and highly complex. In consequence all his work radiates intense artistic energy.
Contemporary German-language literature for children owes a very great deal to these three artists, and we shall be keeping our fingers crossed for all of them when the winner of this year's Astrid Lindgren Memorial Award is being announced!
Antje Ehmann is a freelance journalist, awards panelist and consultant in the field of children's and young-adult literature.
Translated by John Reddick