Bookworld

Why Start to Write for Children?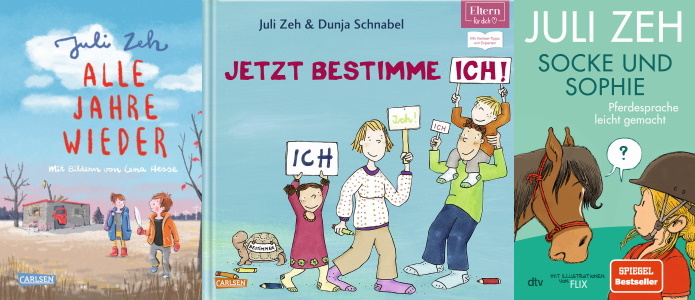 Juli Zeh, Saša Stanišić and three other authors discuss why they decided to start writing children's fiction, and how it differs from writing for adults.
It seems that writers of literary fiction are increasingly turning their hand to children's literature. But what makes them do this? Does it go back to their own childhoods, or is it a question of their focus changing as they themselves become parents? What other reasons might there be for writing for both adult and child readers – something which several of these authors have in fact been attempting to do for many years in their day-to-day writing lives?
Juli Zeh lives near Berlin. Along with being a best-selling author and winner of numerous literary prizes, she holds a doctorate in European and international law and is an honorary magistrate for the constitutional court of Brandenburg. Her debut novel,
Adler und Engel
(Eagles and Angels), was published 20 years ago, and her books have been translated into more than 35 languages. Her children's books have also been instant hits.
Socke und Sophie – Pferdesprache leicht gemacht
(Sophie and Socks - How to Speak the Language of Ponies) arose from her own passion for horses, and is a winning combination of non-fiction and pony story which has also found critical acclaim.
Jetzt bestimme ich!
(My Turn to Choose!) draws on her own social engagement, and
Alle Jahre wieder
(It Happens Every Year) offers an unconventional take on the perennial theme of Christmas. Zeh herself explains how she manages to write for two very different target readerships: "I started writing as a child, so my literary roots go back to children's literature to a certain extent. I can't help but return to it. If I have an idea which I think might be suitable for a children's book, then I set about trying to write it."
For Markus Orths, it was having children of his own – now aged 14, 12 and 8 – that gave him the idea of writing for children as well as for adults. "There's no doubt that my decision was made for me when I had children," says Orths, who lives in Karlsruhe and whose novels have been translated into just shy of 20 languages. "I started making up bedtime stories for them, and the ideas for my first children's books all came from there."
Das Zebra unterm Bett
(The Zebra under the Bed), for instance, started out as an improvised bedtime story; whereas real events were behind
Der reichste Junge der Welt
(The Richest Boy in the World) and
Ein Elefant macht Handstand
(Elephant Does Handstands). All three stories are superbly illustrated by Kerstin Meyer, and are perfect for primary school children. "I can be even more crazy and anarchic and imaginative and adventurous when I write for children – but I sometimes have to explain or repeat things, which I wouldn't do in adult fiction," Orths explains when asked what the difference is between writing for the two audiences. Young readers can look forward to the next two volumes of
Billy Backe
(Mickey Marmot) appearing in 2022 and 2023.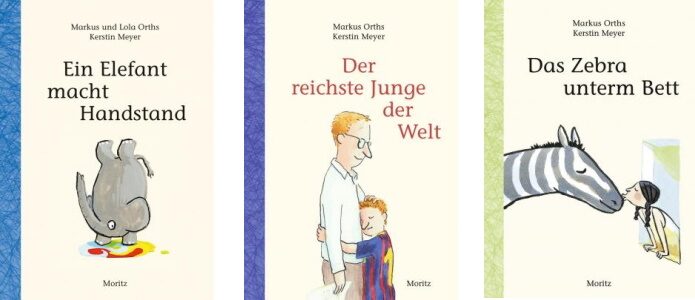 Frankfurt author Katharina Hacker's reason for writing for children and young adults is slightly different: she was dissatisfied with what was already on offer and unimpressed by the pony books which she read with her daughters. Hacker, who won the 2006 German Book Prize for her novel
Die Habenichtse
(The Have-Nots), fulfilled a childhood dream six years ago when she bought a pony of her own - whereupon, as she says, "writing a children's book involving animals seemed the obvious thing to do." The resulting sensitive and multifaceted novel,
Alles, was passieren wird
(Anything can Happen), deals with a fear which Hacker – herself the mother of two daughters – can understand, told as it is from the perspective of a girl whose mother has died. For Hacker, the new discovery was "writing a story with a clear, compelling plot. This doesn't always play such a role in my other books, so it was a challenge and a huge pleasure for me," she says. She has recently completed another novel for adults, and is now planning her second teenage novel. "There are other characters in the first book whose stories are still waiting to be told."
Annette Pehnt's delightful children's stories all feature animals as their central characters – the most recent protagonist being a raccoon.
Hieronymus oder Wie man wild wird
(Hieronymus, or How to go Wild) is a funny and charming story about Hieronymus the racoon and Luki – the boy who bumps into him at a quarter past four one afternoon. "The central thing for me is always the way in which children join forces to help and support one another. There are far too many lone wolves in the world - including grown-up ones!" says Pehnt, the mother of three daughters, who was born in Cologne and has lived for many years in Freiburg. For her, writing for children isn't so very different from writing for adults. "My children are older now, but they're still the first people to read what I've written," she says. "I think it's very important to use clear and engaging language, to observe the characters closely, and to tell their stories carefully and with warmth." However, she also draws our attention to one big difference between adult fiction and stories aimed at children. "Adults can cope with open-ended or ambiguous writing. But children have a need for closure and reassurance, and that's what I want to give them." This is precisely what she does - including in those stories which feature contributions by illustrator Jutta Bauer.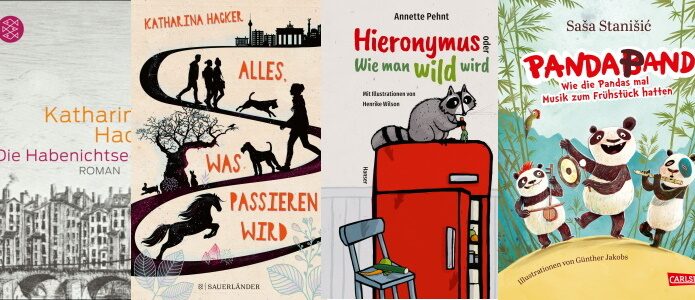 Like Pehnt, Saša Stanišić, winner of the 2014 Leipzig Book Fair Prize (for
Vor dem Fest
[Before the Feast]) and the 2019 German Book Prize (for
Herkunft
[Origin]) enjoys working with different illustrators. His first children's book (Hey, Hey, Taxi!) was illustrated by Katja Spitzer, and he has more recently been working with Günther Jakobs on his second (Panda-Pand). Jakobs has found the process to be quite fascinating. "The thing I have discovered is that my style is always my style, even when the illustrations are aimed at children. I love the way in which my artistic footprint remains the same."
Panda-Pand – Wie die Pandas mal Musik zum Frühstück hatten
(Panda-Pand - The Day the Pandas had Music for Breakfast) offers a delightful and unusual combination of read-aloud story, musical inspiration and panda bears. It all began with the children's stories which Saša Stanišić told his son – "and it was a fantastic moment when he got excited and said 'put it in a book!' This had more or less never happened in such a satisfying and harmonious way with any of my other work. All the usual self-doubt, endless research, dead ends – there was none of any of that stuff!" And as Stanišić has by his own admission hundreds more stories for children in his head, we will have plenty to look forward to!
Antje Ehmann is a freelance journalist, jury member and advisor who specialises in fiction for children and young adults.
Translated by John Reddick