Bookworld

Children's Comics: The Latest Innovations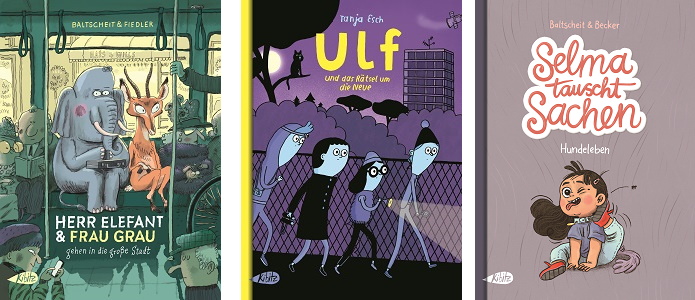 There have been numerous developments in the sphere of children's literature over the past few years. Just as with picture books, the relationship between text and images and the scope for art and words to work together is particularly intriguing and exciting. Kibitz Verlag was founded specifically to produce children's comics, and "POLLE" is a magazine produced by the renowned comic illustrator Ferdinand Lutz.
Dr. Felix Giesa, who specialises in comics at the Frankfurt Institute for Young Adults' Book Research, gives several reasons for the increasing popularity of the genre. "Comics teach us how to see. They are a kind of 'teaching lab' for our media-oriented society; reading comics helps us to connect images, text, and picture-sequences so that they form a logical whole. But we mustn't forget, either, that comics are simply brilliant and are enormous fun!" Countless comics from recent years demonstrate his point. The "Kiste" series by Patrick Wirbelweit and Uwe Heidschötter can pretty much be described as a classic. This five-volume series featuring an animated cardboard box as its main character was launched almost ten years ago by Reprodukt, an independent comic and graphic novels publisher, and now even has its own website (www.kiste-comic.de). "I trained in cartoons, so I love using pictures to tell stories and convey reactions and feelings. That, for me, is what Kiste is all about," Heidschötter says. "Mattis und Kiste - Abenteuer im Ferienlager" ("Mattis and Kiste - Holiday Adventures") has recently been launched by the publishing house Loewe as part of their 'WOW' imprint, and offers a mixture of comic graphics and more standard illustrations, all in black and white.
There's nothing remotely monochrome about "Herr Elefant und Frau Grau gehen in die große Stadt" ("Herr Elephant and Frau Grey in the City") by Martin Baltscheit and Max Fiedler. Fiedler's comic style is unmistakeable for the busy-ness, liveliness and originality bursting from every page. "I start out by making a rough plan of where the text and speech bubbles are going to appear on the page. I also do a lot of sketching to try to get myself into the the atmosphere of the story - for example, the animals and plants of the African Savanna in this case," the illustrator explains. It all begins with a tourist losing their smartphone. The Savanna animals initially take the mysterious object on the ground to be a squashed insect, but then it opens up a new world to them: to the animals, the alien city of Hamburg seems alluring and fascinating with its showers, lifts and buses. Four volumes have already been commissioned, and Martin Baltscheit will no doubt have no trouble coming up with further amusing and often profound ideas.
A similar degree of imagination and flexible thinking is also demanded by Martin Baltscheit's "Selma tauscht Sachen - Hundeleben" ("Selma's Swaps - It's A Dog's Life"). Anne Becker is responsible for the comic illustrations and she, too, has a unique artistic style. It all happens by the ice-cream van. The girl Selma turns herself into an old lady's little grey poodle - and vice versa. The comic is striking for its softly outlined panels and liberal use of onomatopoeia - "riiiiing", "splat", "bang" and "buuurrp" to name just a few. "I hone the dialogue with the author, and we revise or reject some of the scenes and might also come up with some extra pages. Only then do I start to think about the final artwork, colouration and hand-lettering," the Berlin artist says. This comic was published by Kibitz, a relatively new publishing house which particularly specialises in high-end children's comics and which is planning to make its first proper public appearance at the 20th International Comic Salon in Erlangen from 16th - 19th June 2022. "One of our fundamental concepts was to be able to offer suitable events such as comic readings and workshops to mainly German-speaking authors," Kibitz's director Sebastian Oehler says. Oehler himself learnt to read via comics, and his enthusiasm for them has never waned.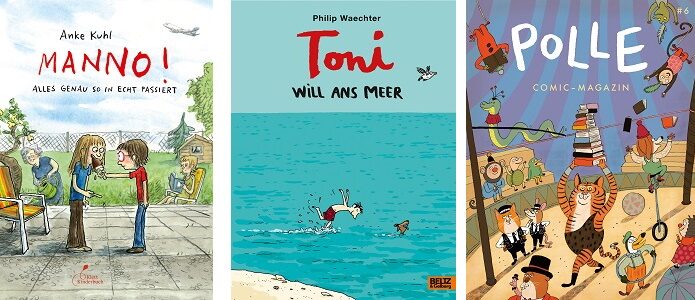 Philip Waechter's "Toni will ans Meer" ("Toni Wants to See the Sea") was the winner of the Children's Book Prize NRW - a prize which the prolific illustrator regards as a reflection on his work as a whole. "Toni will ans Meer" is the second volume to feature the resourceful and charming boy Toni as its main character; the first volume was entitled "Toni und alles nur wegen Renato Flash" ("Toni - And All Because of Renato Flash"). "When I'm illustrating comics, I like to create some movement between the pictures - rather as in a film - and to vary the tempo," the Frankfurst artist says. "The important thing for me was that nothing about Toni's journey was planned. Things just happen, and chance plays a huge role." The chapters - nine in total - are bathed in differing colours, and every line and every facial expression is graphically telling. The narrative voice and the dialogue switch between Toni and his mother, and are splendidly written throughout.
The same is true of Anke Kuhl's "Manno! Alles genau so in echt passiert" ("Oh no! That's What Really Happened"). In 2020, she was awarded the Max and Moritz Award in the category of "Best Children's Comic". At the request of Reprodukt Publishers, she wrote and illustrated "Lehmriese lebt" ("The Clay Giant Comes to LIfe") in 2015, which set her on the path to creating children's comics. "Manno!" is told from the perspective of eight-year-old Anke and represents her memories of her 70s childhood. The jury of the German Youth Literature Award particularly commented on the story's "snapshots, changes of perspective and its way of zooming in on things, enhanced by 'speed lines' and onomatopoeia which make for a real sense of dynamism" when it was nominated for the Children's Book category in 2021.
Countless other artists and publishers such as Carlsen, Jaja and Rotopol are producing high-quality children's comics. "POLLE" marks the start of a fantastic comic magazine for children; illustrators include Anke Kuhl, Nadia Budde, Tanja Esch and Ferdinand Lutz - the latter here wearing his 'founder and publisher' hat. "I realised that there was no children's comic magazine in Germany which could introduce children to different narrative perspectives and types of illustration," he says. "POLLE" is published twice yearly ad-free by Péridot Publishers and is a veritable playground for illustrators. What does he find particularly fascinating about children's comics? "They enable children to engage with complex stories for which they may well not yet have the words."
Antje Ehmann is a freelance journalist, jury member and advisor who specialises in fiction for children and young adults.


Copyright: © Litrix.de