Category: Children's Books
Stories
Children's classics given new life
Children's classics are a wonderful means of finding out about new creative tendencies in the art of book illustration. They are republished every few years, and whilst the cues and signals offered by their narratives remain ever the same, the accompanying images are always different as a result of the particular styles and personalities of their illustrators.
Theodor Storm's Der kleine Häwelmann (Little Scamp), written in 1849, is one such classic that has been illustrated anew many times over. The story is well-known: a little boy who can't get to sleep one night, despite the best efforts of his mother, ingeniously turns his bed into a kind of boat, using his leg as a mast and his nightshirt as a sail, then sets off on a voyage around the bedroom - until a moonbeam enables him to slip out, first into the town, then into the forest, and finally into the sky.
Even then the little sailor is still not satisfied, demanding more light from the moon, rudely cruising right over his nose, and throwing the stars into confusion, until at last the sun determinedly puts an end to his overweening exuberance by unceremoniously pitching him into the water, whereupon he is rescued by the narrator - with the help of his young reader.
Even in this fantastic fairy tale, Theodor Storm, the great 19th century Poetic Realist, shows himself to be more realistic than his European contemporaries: there is nothing here of Andersen's magical melancholy, or Collodi's bizarreries. Something of a moral can scarcely fail to come across to us as we read this story: Don't make excessive demands on the world around you, or you'll end up with a nasty surprise! - a moral quite similar that of the Grimm brothers' fairy tale The Fisherman and his Wife.
It took the book illustrator Ulrike Möltgen (born 1973) a good few years to step out of the shadow of her great teacher, Wolf Erlbruch. Erlbruch set himself extremely high standards, and Möltgen has adopted the same approach and turned it to good account in her work. With more than fifty publications to her credit, she now counts as one of Germany's most renowned children's book illustrators. Throughout her career she has remained a devotee of collage, making use in her images of paper, cloth, twine, wallpaper and card.
This is her method in Der kleine Häwelmann, too. The illustrations here are characterised by muted colours; the nocturnal mood is created by the use of dark turquoise, dark green, mauve, and plenty of black. Contrasting with this are the little boy with his mop of blond hair, kind 'Mr Moon' with his warm light, the golden stars, and the vivid red ground-colour of the two double-page spreads showing the cat lighting up the forest with her bright sparkling eyes.
These collages are angular, creative and highly expressive; they are strong and spirited, not pretty-pretty evocations of fairyland. The moon with his two faces, the the grim demeanour of the exhausted mother, the irksome demands of the little boy, the distorted perspectives and proportions - all of these things go directly against the grain of conventional fairytale imagery. Matter-of-factness and a penchant for abstraction combine here to form magnificent if small-scale visualisations of the action - such a pity that the images aren't far bigger!
Everywhere throughout the entire world there are screaming children and nerve-wracked parents, and it is for them that this fairytale was first written by Storm and then re-imagined by Möltgen. In the process, an extra dimension of meaning is subtly conveyed to adult readers by Möltgen's illustrations - a dimension that was perhaps not consciously intended by Storm, but which these days presents itself more or less automatically: children don't start screaming only when they don't feel like going to sleep, but also when they are hungry, afraid or in pain - and dreams of a flying bed, of sun, moon and stars, may well give them some comfort in such situations. Let's hope so!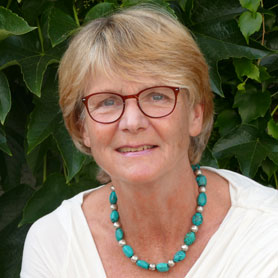 By Sylvia Schwab, 26.10.2018
​Sylvia Schwab is a radio journalist with a special interest in literature for children and teenagers. She serves on the jury for the monthly 'Best 7' list of books for young readers produced under the aegis of Deutschlandfunk and Focus, and works for Hessischer Rundfunk, Deutschlandfunk and Deutschlandradio-Kultur.
Translated by John Reddick
Publisher's Summary
Little Scamp is lying in his wheeled crib and just can't get off to sleep. He wants his mother to push him all around the room, but she has already gone to sleep in her four-poster bed. He decides to take matters into his own hands and, slipping through the keyhole on a moonbeam, he simply takes off into the night... Ulrike Möltgen has created new and perfectly matched illustrations for this re-edition of Theodor Storm's children's classic in the Insel-Bücherei series: an ideal book for reading aloud - not once, but again and again!

Text: Suhrkamp Verlag

(Text: Suhrkamp Verlag)
Publisher's contact details